City Matters: Community voices needed on City committees!
October 19, 2023
Stay connected with the issues important to you in your city.
In this edition of City Matters:
Did a friend forward this to you? Subscribe to City Matters to receive future editions straight to your inbox, every month.

Feature stories
Sleeping Cabin program location
In late September, we held two in-person information sessions to hear from the community about a possible long-term location for the sleeping cabins.
The two proposed locations are Rideau Marina and Rodden Park. Help determine the location of the Sleeping Cabin program by taking the survey on Get Involved Kingston before Nov. 2.
Community voices needed – volunteer for a City advisory committee
Applications are open until Oct. 30 for a variety of City advisory committees and external boards. We sat down with Acting Deputy City Clerk Derek Ochej to uncover the who, what, when and why of the City's advisory committees – and how you can apply.
Q: Hi, Derek. Can you start by briefly explaining what advisory committees do?
DO: Committees and boards offer input and advice on a wide range of topics, like the arts, accessibility, housing, the environment, rural issues and more. They meet on a set schedule and their duties can include reviewing policies, providing feedback to Council through City staff on emerging issues and taking part in working groups on special projects.
Q: Which committees are currently looking for volunteers?
DO: General applications are open for eight committees:
Appeals Committee;
Equity, Diversity and Inclusion Advisory Committee;
Fence-Viewers;
Kingston & Frontenac Housing Corporation Board;
Kingston Heritage Properties Committee;
Municipal Accessibility Advisory Committee;
Planning Advisory Committee; and
Kingston and Area Taxi Commission.
Several committees now have youth positions available for people aged 15-24, including:
Arts Advisory Committee;
Equity, Diversity and Inclusion Advisory Committee;
Housing & Homelessness Advisory Committee;
Kingston Environment Advisory Forum;
Kingston Heritage Programs Committee;
Municipal Accessibility Advisory Committee; and
Rural Advisory Committee.
Q: Do applicants need to have any prior experience? Are there other requirements?
DO: We are looking for people with a variety of backgrounds and experiences who are interested in the various committee topics. We welcome applicants from all walks of life to bring new perspectives and ideas to the table.
Some committees want people with specific skills, like the Appeals Committee, which deals with City bylaws and might suit someone with a legal background. On the other hand, the Equity, Diversity and Inclusion Advisory Committee is looking for members who want to help make City programs and spaces more welcoming to all. If you are interested in finding out what each committee does, you can check out the application page for more details.
Whether you're new to Kingston or have lived here for some time, your unique background and perspective are valuable to our community. To volunteer for a committee, you need to live in Kingston or own a business here and be a Canadian citizen or Permanent Resident.
Q: How often do committees and boards meet? What is the time commitment?
DO: It varies from monthly to quarterly. You can see how often each committee meets on the application page, or you can look at the committees and boards page to get a sense of their current schedules. In addition to meeting times, committee members will need to review reports, agendas or other documents ahead of time.
Q: How often do committee positions become available?
DO: The committees and boards have different terms, ranging from one year to a full term of Council (about four years). Some of the terms are staggered, so members may be appointed at different times. Occasionally, people choose to step back from their position on a committee due to personal circumstances. In those situations, another applicant will be selected from the most recent pool of applications.
---
Apply at www.CityofKingston.ca/Committees by Monday, Oct. 30 at 4:30 p.m.! If you have any questions about applying, please contact the City Clerk's department by email at CityClerk@CityofKingston.ca or by phone at 613-546-4291 ext. 1207.
Leaving a legacy in words
During his time as Kingston's Poet Laureate, Jason Heroux made remarkable contributions and achievements to Kingston's arts scene. The role of the Poet Laureate is to increase awareness of Kingston as a centre of writing excellence and foster creative writing in and about the city.
From 2019-2022, Heroux mentored poets in the community of all ages, encouraging creativity and creating opportunities for Kingston poets to share their work with the wider community. He also represented Kingston provincially and nationally, raising awareness of Kingston as a poetry hub.
Jason's Legacy Project mirrors the work he did as Poet Laureate, shining the spotlight on three local poets. Watch and listen below as Michael Casteels, Olivia Ows and Lori Austen share their new poems as a part of the project.
Michael Casteels: Where do we come from?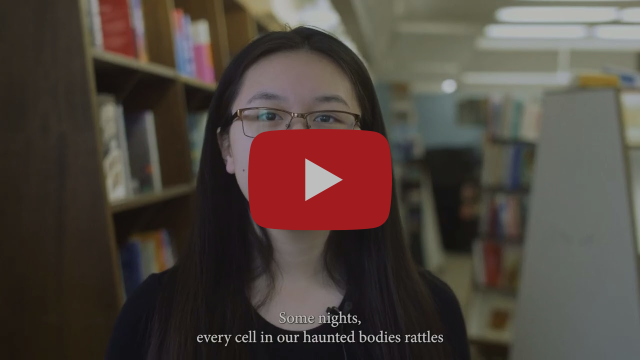 Olivia Ows: What are we?
Lori Austen: Where are we going?
Tell me more about... the Public Engagement Framework
Public engagement is more than a survey. It's a promise and a commitment to engage people in the community on matters that affect their quality of life and use the resulting feedback to facilitate more informed and inclusive municipal decision making. It's not always an easy process and it frequently brings together divergent opinions, beliefs and visions.
This month on Tell Me More, the City of Kingston podcast, Jen Pinarski, Manager of Communications and Public Engagement joins us to talk about the review of the City's public engagement framework, which is currently underway. Learn about how the City is using your feedback to improve how we conduct public engagement.
Tune in now or wherever you listen to podcasts.
Offer input or feedback on the latest municipal projects:
Islamic Heritage Month – October
Indigenous Veterans Day – Nov. 8
Remembrance Day – Nov. 11
Get your monthly dose of recreation, special events, museums, programming and shows by subscribing to the Top Activities at the City of Kingston newsletter! Check out the October activities newsletter and subscribe in the top left corner of the email.