Tourism Kingston launches series of Creative Kingston Walking Tours
July 13, 2023
Nine new walking tours allow users to explore the past and present of film, music, and literature in the Limestone City
Kingston, Ontario – Explore the best of Kingston's film, music and literary scenes with nine new self-guided walking tours. Uncover music venues where some of Canada's best bands got their start, visit the set locations of popular television productions, and visit the places that have inspired award-winning novels.
Through archival images, video clips, behind-the-scenes stories, and a robust itinerary of local sites, these free tours provide a new appreciation for Kingston's creative history for residents and visitors alike. Each tour is available in both English and French, and features written text and audio narration from musicians, actors, poets, radio personalities, and arts professionals from Kingston's creative community.
Presented on visitkingston.ca/walking-tours, each theme offers three tour options: downtown, west (Queen's University and nearby neighbourhoods), and extended, ranging from approximately 60 minutes to 2.5 hours in length, allowing users to explore at their own pace. The mobile-optimized interface makes it easy to follow along on your phone, with route maps, directions, stories, and assets like photos, videos, and music, presented seamlessly. The tours are presented free of charge.
Discover Kingston's cinematic past and present by visiting recent film and television production locations while learning about the early history of cinemas and film productions in the city. See how Kingston streets and buildings have been transformed for productions, into anything from 1890s New Orleans to a futuristic planet in the Star Trek universe.
Become immersed in the musical stories of Kingston, from rock to pop or classical. Visit the places where some of Canada's most talented musicians got their start and explore Kingston's vibrant live music scene. The music tours take the user from the downtown site of The Tragically Hip's first show to their very last, as well as exploring the venues that sparked musical collaborations and careers from such notable Kingston musicians as Miss Emily, The Mahones, and The Glorious Sons.
CFRC included in Music walking tour!
The Music tour highlights just a few of Kingston's many musical stories, matching artists with different locations along the way. The City invites you to discover more music in Kingston, at venues, concerts, and festivals throughout the year as well as CFRC's airwaves.
https://www.visitkingston.ca/walking-tours/music/?sub=west#tour-stop-5
Explore the Kingston connections of notable Canadian authors, from Robertson Davies to Bronwen Wallace. These tours take users to a variety of literary landmarks and the sites that continue to inspire the written word. Users will learn about a Rembrandt painting that inspired a modern poem, the penitentiary that inspired several literary works, and the archives that safeguard literary legacies.
All tours are complimentary. Earphones are recommended for the best tour experience. More information about the new walking tours and other options can be found at visitkingston.ca/walking-tours.
The Creative Kingston Walking Tour project is presented by Tourism Kingston and made possible by a Tourism Relief Fund grant through the Federal Economic Development Agency for Southern Ontario and with support from the City of Kingston.
Film studies, courtesy of Queen's Archives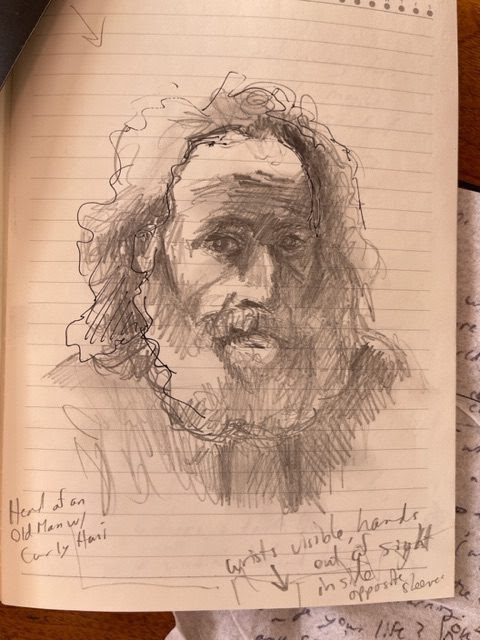 Rembrandt sketch, courtesy literary estate of Steven Heighton
Dollar Bill's placemat, 1980
1982 back row (2-4) Gord Downie, Mauro Sepe (The Mahones drummer), Paul Langlois, KCVI yearbook